The Holocaust is an historic event which began in 1933 and ended in 1945, during which Nazi Germany tried to eradicate the Jews and other people, in accordance with its racist worldview. It makes part of the events of the Second World War (WWII).
The Nazis came to power in Germany in 1933 by democratic means and then proceeded to destroy democracy and all those whom they considered "enemies". According to the Nazis the German people, who are part of the Aryan race, were the best kind of people in the world: the most creative, the most cultured, they contributed the most to the humanity. In their view, the other races, and especially the Jews, were the exact opposits: the destroyers of humanity, seen as parasites that had to be destroyed. This is known as the nazis' "Race Doctrine", their idea of different races, superior and inferior.
Race Doctrine
Key issues:
– Nazi's race ideology divided the human race into several races by hierarchical order.
– According to their theory, they belonged to the so called "Master Race", while the others belonged to the Middle Race, the Inferior Race or even the Anti-Race.
– They believed that the Master Race was destined to control Europe.
– Belonging to a race depended on heredity, so "racial purity" had to be preserved.
People being deported to go to concentration camps. Most of them will never return.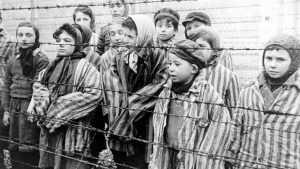 Children in a concentration camp.
Vocabulary:
an event
to eradicate
in accordance
worldview
to proceed
to consider
to contribute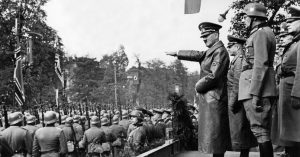 In 1933 the Nazi Party, led by Adolf Hitler,  set up the first concentration camps in Germany. At first they were for members of other political parties that were opposed to the Nazis. The camps also housed Roma (Gypsies), homosexuals, and other groups that the Nazis did not think fit into their society.
In 1938 Germany began taking over nearby lands. They sent Jewish people from those countries to the camps in Germany and other countries, such as Poland.
In many camps the prisoners were forced to do hard work. They were not given enough to eat or warm clothes to wear, so many died. Other camps were set up specifically to kill large groups of people. By the end of the war, millions of people, mostly Jews, had been killed or died in the camps. Some of the most well-known camps were Auschwitz in Poland and Dachau in Germany.
 Concentration Camps
Key issues:
– A concentration camp is a place where people are held as prisoners for political reasons. Unlike in actual prisons, the people are not there because they did anything wrong. Instead they are members of a group that a government wishes to control or punish for some reason.
– Under the Nazi regime, millions of people died in concentration camps.
– Some concentration camps were made specifically for the purpose of killing people.
– After they lost the war, the nazis tried to hide what they had done by destroying some of the infrastructures of the camps.
Vocabulary:
concentration camp
instead
regime
purpose
infrastructures
Case Study:
Anna Frank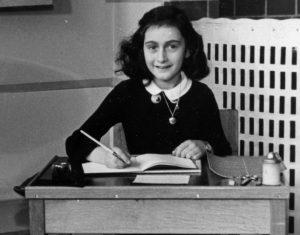 Anne Frank was a girl born in Germany in 1929. When Hitler came to power in 1933, her parents fled to Amsterdam. On 9 April 1934, Anne Frank went to kindergarten at the Sixth Montessori School in Amsterdam. The school was only a few blocks away from her house. She was a happy and energetic child, made a lot of friends at school and liked her new life in the Netherlands.
But the war soon spreads accross Europe, German invades Poland and later it occupies the Netherlands. Soon, the German Police starts deporting Jews from Amsterdam to take them to the concentration camps. Those who helped the Jews or tried to hide them were punished or killed. In order to find all the Jews living in Amsterdam, the Nazis asked the municipality to provide them a map with all the homes of Jews. The municipality gave it to them.

Many Dutch people tried to have as little to do with the Nazis as possible. Thousands of others chose the side of the Nazis and collaborated. But there were also a lot of people who opposed the Nazis.
From April 1941 onwards, every Dutch person aged 15 years or over had to have an identity card. This identity card had a passport photograph and a fingerprint of the bearer as well as a unique number. Large capital 'J's were later stamped onto the documents of Jews, to make them instantly recognisable. From 1 January 1942, everyone had to carry their card with them at all times.
For the Nazis and the Dutch police, identity cards were an important tool in tracking down Jews, resistance fighters, and people who wanted to avoid compulsory employment.
Anna Frank was still living in Amsterdam, in great fear. For her thirteenth birthday she received a diary as a present and she immediately started writing. She wrote about her life and the people around her. In time, she developed as a writer, wrote short stories and started working on a novel based on her diary.
But the Frank family is in great danger and they have to hide. They need to escape the Nazis. They tried to go to the United States of America, but they couldn't. Then Anne's father, Otto Frank, realised that they would have to hide from the Nazis in order to survive. In July 1942, the family went into hiding, together with the Van Pels family. Other friends joined them later.
The was continues, the years pass and Anne writes in her diary all the difficulties of her life in hidding. Some good news arrive at last: in 1944 the allied forces land in France. Maybe the victory is close.
But unfortunately the hidding place of the Frank family is discovered and they are all taken to concentration camps. Only the father of Anne will survive.
Anne and her sister Margot were taken to Auschwitz  and then to the Bergen-Belsen concentration camp in a crowded train. Their mother Edith was left behind in Auschwitz.
In Bergen-Belsen, Anne Frank ran into children she had known in Amsterdam. She talked to Nanette Blitz and Hanneli Goslar, for example, two girls she had gone to school with.
In the winter of 1944-1945, the situation in Bergen-Belsen deteriorated. There was little food, and the camp was filthy. Many prisoners fell ill. Margot and Anne Frank contracted typhus and died in February 1945. Nothing is known about their final days.
Her father, Otto, took the diary of his daughter and published it. Her writings, her thoughts and her feelings will remain forever to remind us that we should never again induce so much pain to each other.
Activity 1
Read the following quotes from Anne Frank's diary. Which one(s) do you like the most? Why?
– "I'm becoming more and more independent of my parents"
– "I know what I want, I have a goal, I have opinions."
– "The time will come when we'll be people again and not just Jews!"
– "I feel the beauty of nature and the goodness of the people around me."
– "How wonderful it is that nobody need wait a single moment before starting to improve the world."
Activity 2
Otto Frank, Anne's father said: "Most parents don't really know their children." Why do you think he said that? Do you believe that it is true?
Activity 3
Write an essay (200 words) on the following quote by Nelson Mandela:
"No one is born hating another person because of the color of his skin, or his background, or his religion. People must learn to hate, and if they can learn to hate, they can be taught to love, for love comes more naturally to the human heart than its opposite."
Sources:
https://kids.britannica.com/kids/article/concentration-camp/598985
https://www.yadvashem.org/education/educational-videos.html?id=3282
https://www.annefrank.org/en/